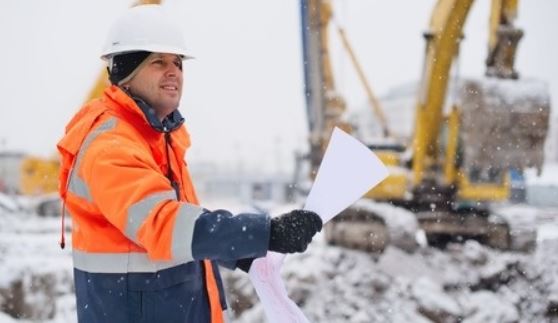 On the 2016 calendar, today (12/21/2016), marks the first official day of winter. Winter is typically a slow time for contractors and home builders, but with all the new homes being built in Meridian, Eagle, Star, Nampa, and even in my hometown of Emmett, ID, there are no signs of things slowing down this year! New homeowners often have reservations about building a new custom home during the winter months, so in this blog post I will answer some common questions. The short answer is YES – you most definitely can build a new home during winter months, in fact, there are some distinct advantages of doing so. On the other hand, building during the winter does present some obvious and other not so obvious challenges that I'll explain.
Here are some common questions that I'm often asked about building a new home during winter.
Does normal winter weather warp or damage building materials? No, if fact it is easier to work with materials after a snow storm than it is a strong summer rain storm. Snow can be easily brushed off. It is important to remember that today's building materials are not harmed or degraded by exposure to normal rainwater or snow. The wood does not immediately rot if it gets wet. However, if your builder chooses to use low grade (cheap) building materials, they might not handle the elements as well as higher-quality materials will.
Can good workmanship still be performed when workers are fighting cold weather? Yes, experienced and professional crews provide quality work in winter, summer, spring or fall. The crews and subcontractors that Riteway Builders uses are all pros at what they do, they wouldn't blink an eye at taking on a project during the winter. They've done it year after year, and have the tools, gear, and safety equipment needed to work in any type of weather.
Does the cost of building a home go up or down during the winter? Yes and No – This is a tough one because it has less to do with the weather and more to do with the market and economy. In a slower economy, it can be harder for contractors and crews to stay busy during the winter, so prices in those circumstances could potentially come down. There are some extra labor and equipment costs that are required during winter months, that can add to overall costs, but they are easily canceled out by the price increases in labor and materials when things start heating up in the spring. So, most of the time things average out and prices will be about the same. If you choose Riteway Builders to build your new custom home, you'll know exactly what to expect as far as costs (LEARN MORE HERE ABOUT THE RITEWAY DIFFERENCE).
Does it take longer to build a new home in winter? Yes, in my experience it does take a bit longer – it's best to anticipate delays. During strong winter weather storms, construction work will stall and added prep or safety tasks take more time.
I would say that the most important thing you could do if you are considering building a new home during the winter, is to make sure your contractor has the experienced crews, knowledge, and equipment needed to handle extreme winter conditions. Make sure you address all your concerns about building in winter before moving forward.
If you are thinking about building a new custom home in Meridian, Boise, Eagle, Star, Middleton, Emmett, or other areas surrounding areas – let's talk!
Call +1 (208) 963-0475
Or Contact Us Online Using The Form To The Right.