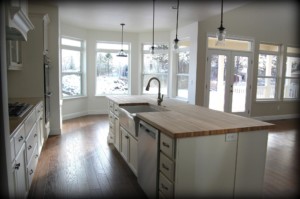 If you are thinking about building a custom home in Meridian, choosing the right custom home builder is crucial. An experienced custom home builder will have the skills and design team to translate your wants and needs onto a blueprint. Although not set in stone, that print in conjunction with your input will be followed from the very beginning of the project right down to the completion. Experienced home builders work hard to ensure that your goals, needs, objectives and budget all fall in line with and exceed your expectations. When it's all said and done, the end result should be an exquisite custom home designed just the way you wanted, the way you have always wished for.
If you are planning on building a custom home in Meridan, or surrounding areas like Eagle, Star, Middleton, or Emmett, ID, we want you to know a little more about Riteway Builders, and in general what to look for in a custom home builder before hiring one.
Check The Paperwork
Before getting started, you'll want to check for a valid business license and insurance certificate. No matter how legitimate a company may look, it is a vital step to check the paperwork. If all paperwork is in order, it's time to researching reputation and reviews.
Check The Track Record
It today's world, it just takes a second to pull up reviews and ratings online. Don't forget to visit the social media sites for a builder, and read customer comments. In addition to some online research, ask your potential builder to provide a list of customer contacts and addresses that you might be able to visit with in person. Ideally, ask for projects that are of a similar magnitude and style of the home design you like, so that you gain some ideas about how you want your new home to look.
Attention To Detail
While asking questions and for information, pay attention to the communication and organizational skills of the builder. Does he or she listen carefully and respond with clear and informative responses? Is the builder's proposal detailed and thorough?
What Is The Builders Style
Everyone has their own likes and dislikes when it comes to the style of home that they prefer. There is no right or wrong style, so if you want a modern industrial look, choose a builder who's previous home designs reflect that style. Some builders are experienced with a wide range of different home styles, just make sure they have experience building using the style that suits you. As mentioned previously, don't hesitate to ask for a possible walkthrough of other homes they have built.
Obviously, there are other information and details that you'll want to consider before making an informed decision when choosing a custom home builder. Just consider the above tips and you'll be on the right track.
About Riteway Builders:
Riteway Builders, LLC has been a well-respected custom home construction company for over 15 years. We build custom homes in Emmett, Eagle, Meridian, Star, & Middleton areas. We also provide commercial construction and commercial tenant improvements in Boise and all surrounding areas. While we may not be the biggest home builder in the Treasure Valley, we are simply the best, most customer oriented, general contractor you will find anywhere.
Call us today, and we'll schedule a time to talk about your project and see if building the "Riteway" makes sense for you!
Call (208) 963-0475